What about Games?
Is it a game or an activity? How often has this scenario played out in your training? In the real world, games are group activities played for recreational purpose only, but in Colltrain you can design a variety of activities – some pure games or applied a.k.a."serious games", that delivers a fun and engaging experience for all participants and makes the interaction more relevant and more likely to impact behavioral change and mindset in the long run.
Games with letters
Keep your mind in good shape!
Online, as simple as on the board, if not simpler. How many points can you get in just a few minutes on timer? Longer words score more points and now you can just click, click and make your word.
Arrange letters, create words, learn new words and have some fun with your team. It is time to win the game with the highest possible score at Colltrain.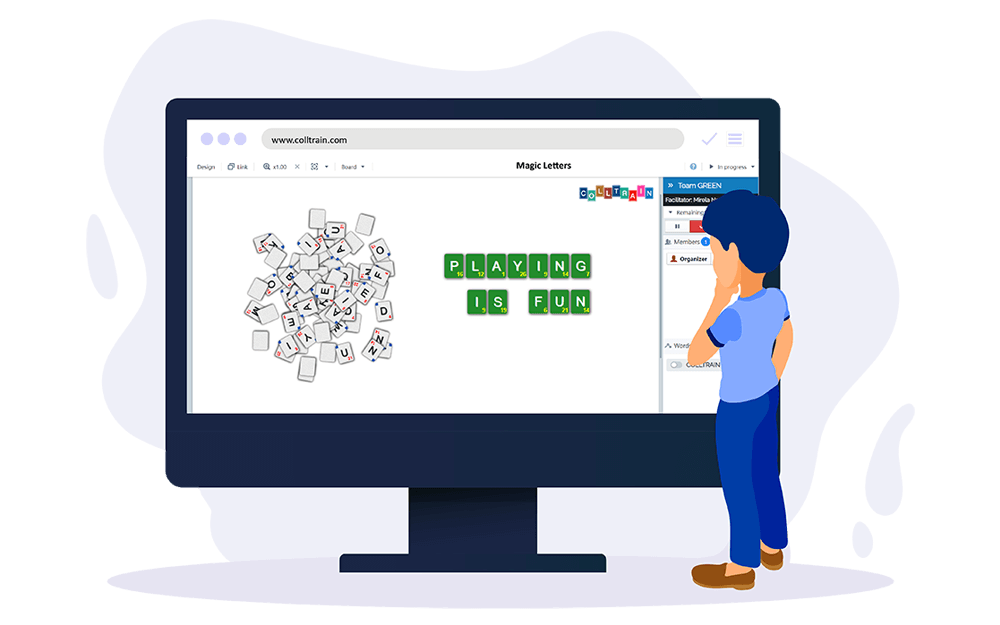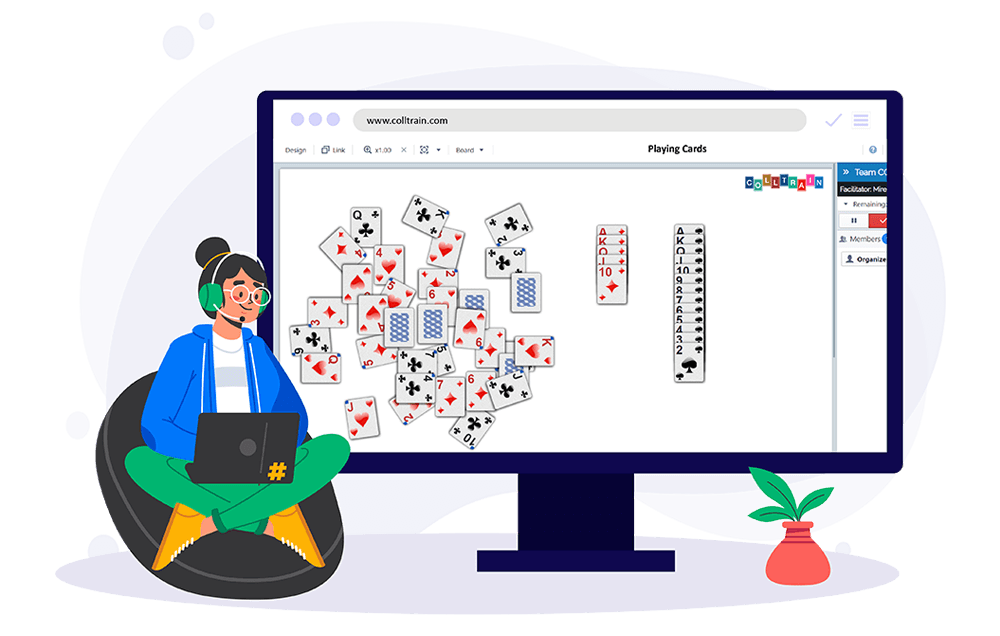 Games with Cards
Start your click marathon!
Sort the Cards game is one of our most popular, used for communication and negotiation skills.
Great teamwork makes things happen more than anything else in organizations and if this game is really easy in real life, try playing it online. The difficulties appear when you have to click, click and click some more, to rotate the card in the correct position to stick it to the deck, under time pressure. Tic-Tac, the game has begun!
Jigsaw
Improve your vision!
Jigsaw focuses mainly on how well do teams work together, giving room to robust communication, discussions, and solving strategies, while improving visual-spatial reasoning.
This will spark communication and cooperation, while putting it back together piece by piece. You can choose your own images as a starting point in building Jigsaw type activities with different difficulty levels (from a very easy one, to an extra hard one) and add object behaviors like tile rotation, board zoom and randomization for a lot of fun!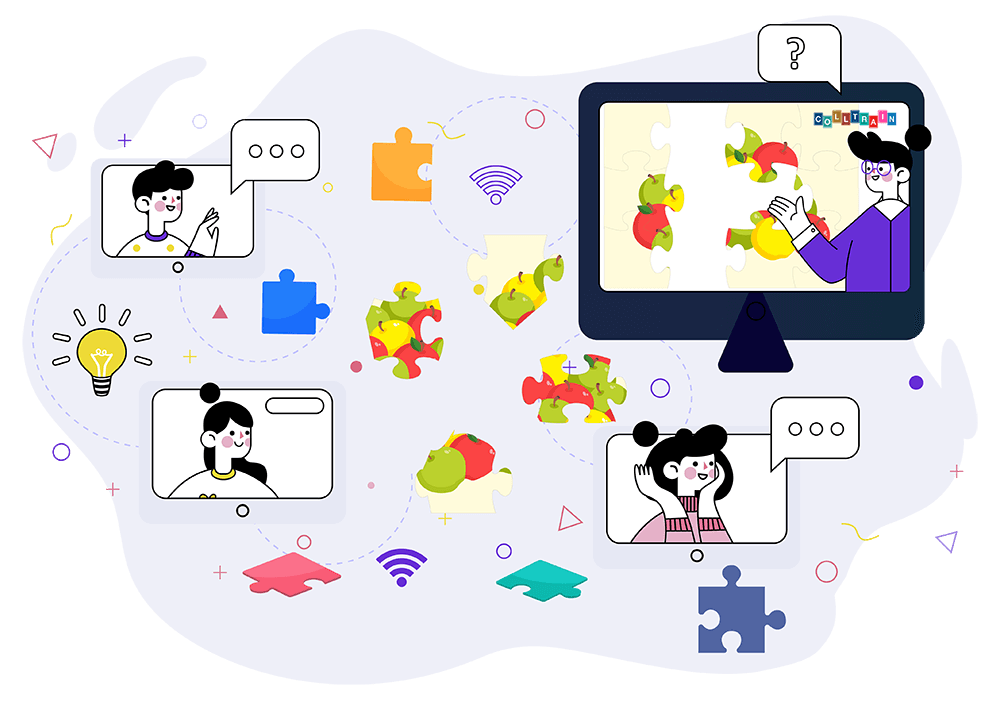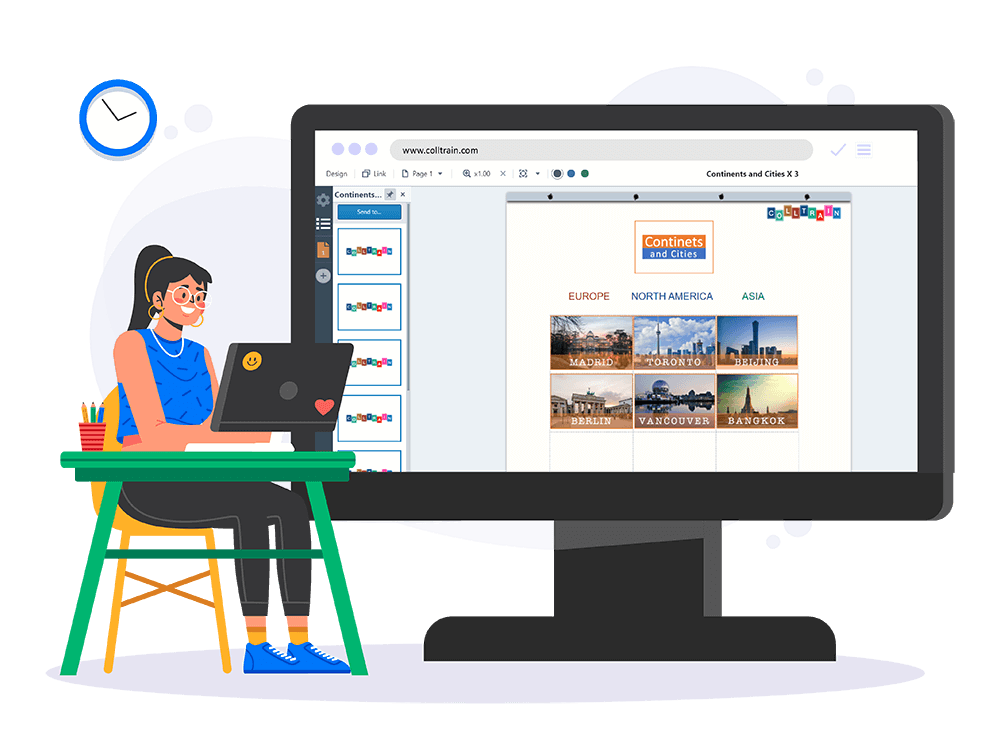 Mix and Match
Exercise your creativity or check on your knowledge!
What two things could be brought together for the first time to create a new one? For example, what would our phones be without a camera? This game is one of the best ways to brainstorm for new business ideas, and now, put in the online script of Colltrain, it has a much shorter completion time, having all the activity materials ready and listed at all time on the screen, so that you can view and combine them much faster.
An alternative scenario could be to use Mix and Match activities to check on knowledge retention level of the participants.
Long story short, have fun while playing Mix and Match!
Top X of… everything
Measure your team players worldview!
It helps when analyzing the perception or preference of participants is important. It is possible to claim that there is a context between one's preferences and perceptions, based on which you can consider the personality of others.
Team members are able to collaboratively develop a list of items ordered by different criteria. A practical scenario may use a table and any other objects: Notes, Magnets or Images.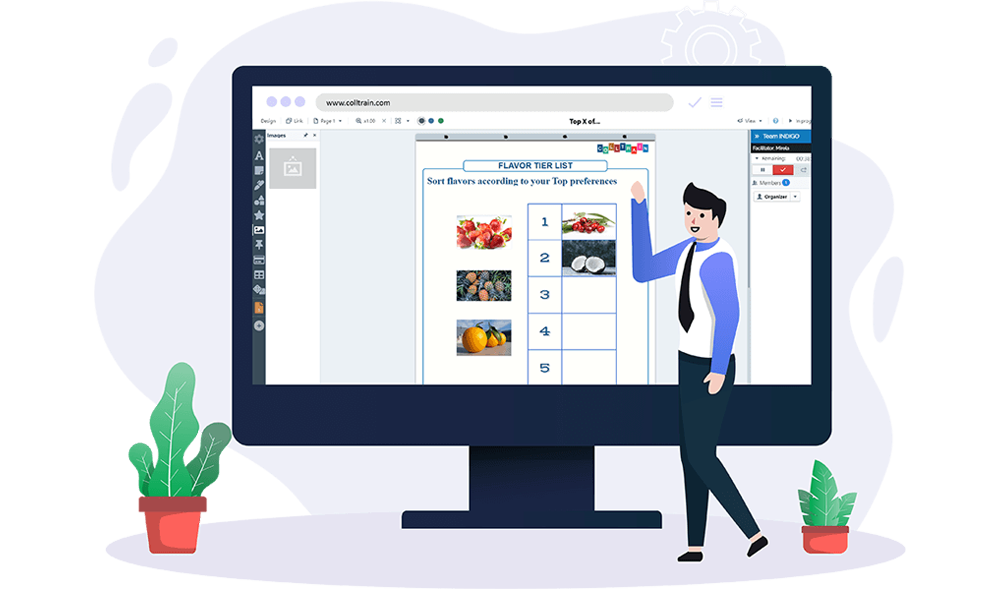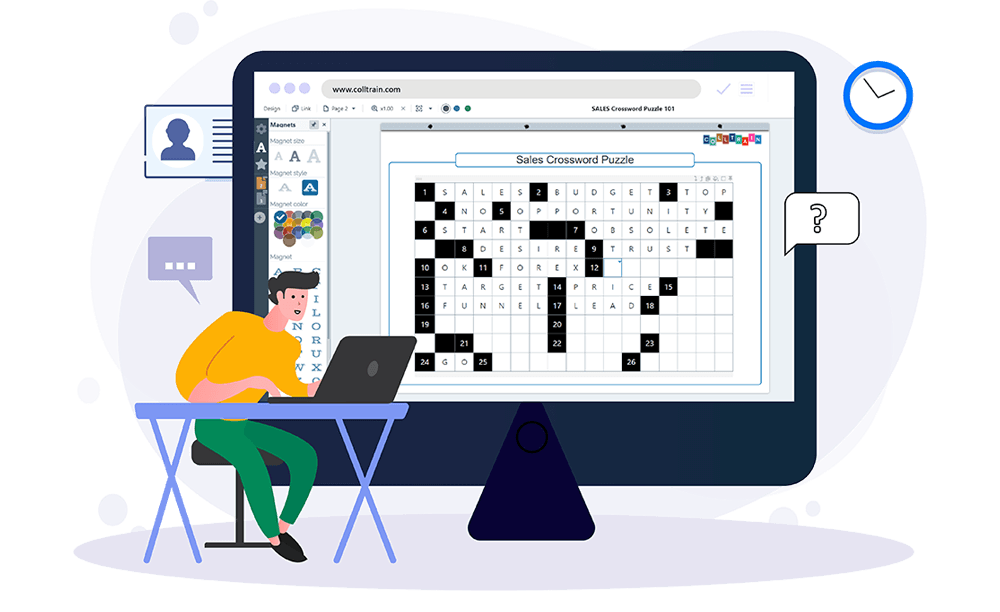 Crossword Puzzle
Create your own puzzles and play in teams!
With Colltrain table object, you are now able to implement interactive Crossword Puzzles, for creating a custom and awesome activity for your team.
To control the efficiency of Crossword activity you can create separate pages, which you can totally hide or block for players. For example, you can hide from team members the page with the answers, or you can block the elements of the page that contains the definitions, to be read only, so that they cannot copy them.
By the way, have you ever used Crosswords before, for energizing or recap activities? With Colltrain it's easier than ever. Give it a try!
Mystery Solving
Act like an investigator!
Create a mystery scenario and let them find a way out. This is extremely useful when you want to incite the participants to collaborate in finding a solution.
Thus, they will have to dig, dig and dig into facts, exchange ideas, test work hypotheses and, hopefully, find the right answers in the given time.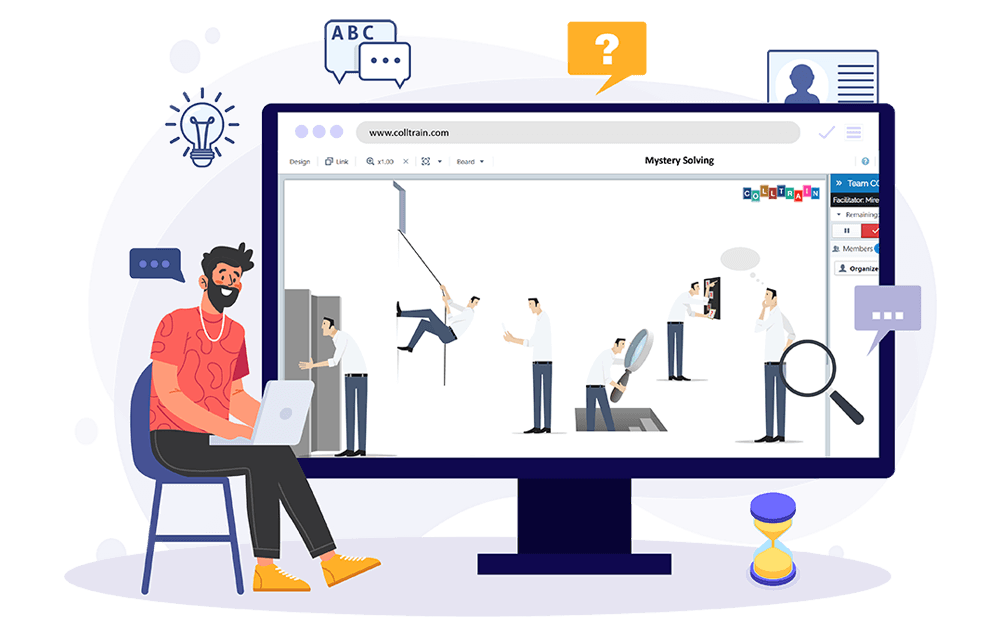 You are in good company!
"A special thank you for a wonderful day! Everyone had a WONDERFUL experience with the Magic Letters and we all LOVED the Magic Cards activity! It was very pleasant, a lot of fun. Colltrain is a great idea to keep the team engaged and that's a fact, because everyone barely waits for the next activity. I will most certainly be recommending you guys in the future!"
Adela Bucur – Participant in team management training