What about Flipchart Objects?
Unleash creativity and engagement with objects that replicate in class activities. Use notes, magnets, tables, shapes icons, images and others. Now we can all agree that virtual learning is different than in-class training, not better and certainly not worse, just different.
From physical to virtual
Transform your learning with Colltrain!
A switch in approach is about making the right transition – automate, simplify and streamline all types of activities into one easy-to-manage application.
Let's make some, to see how we implemented the transformation of elements.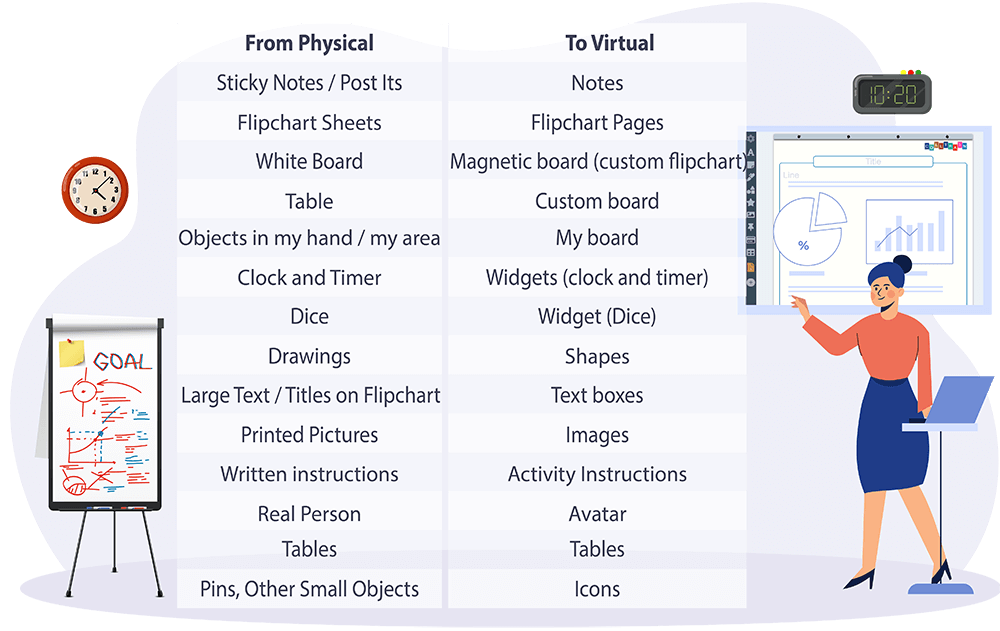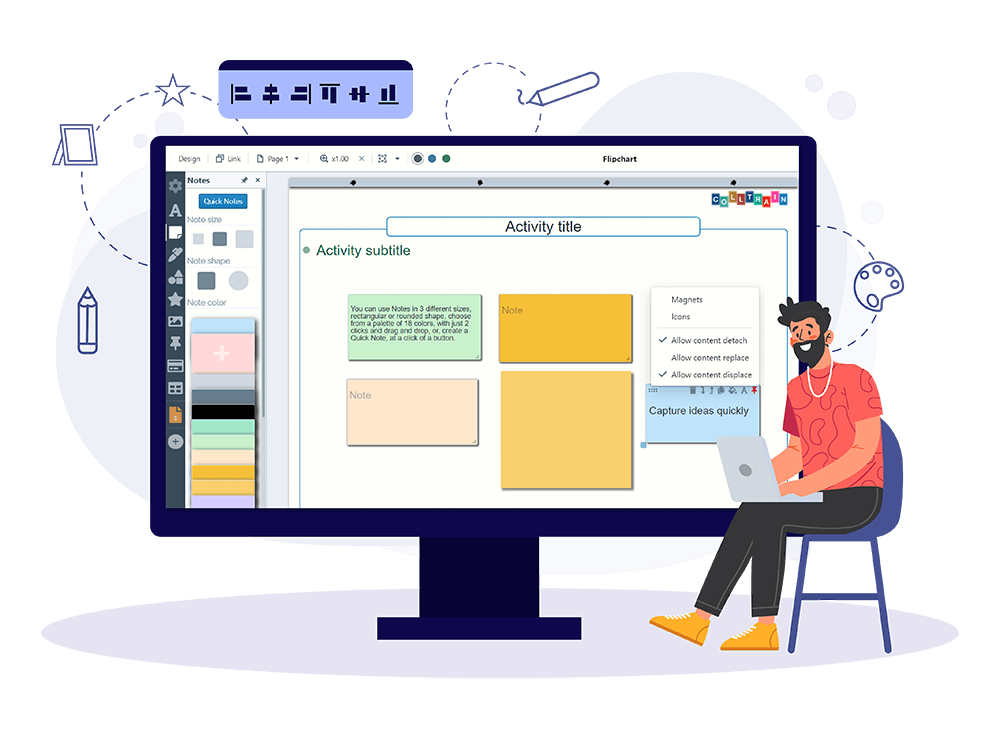 Notes
Capture ideas quickly!
Notes are very useful for capturing ideas in brainstorming sessions, problem solving and other activities. These notes can be organized by importance and managed using tools such as Magnets and Icons.
There are various forms of taking notes, and which one you choose depends on both your personal style and the participants' approach to the activity. If you are looking to capture a rapid fire conversation you can use Quick Note.
Notes are coming in 3 different sizes, rectangular or rounded shaped, with a palette of 18 colors.
Magnets
Sort ideas, outline and emphasize!
With Magnets you can interact and work together more effectively. Though every participant may know that magnets can be used to hold notes on the fridge, using Magnets feature you can keep a clear record divided into categories of priorities.
You can use Magnets in 3 different sizes, 2 styles, choose from a palette of 17 colors, with just 3 clicks and drag and drop.
This is where your genius and creativity come into play, because you can choose between letters, numbers and arithmetical signs, in order to make the most of your activity.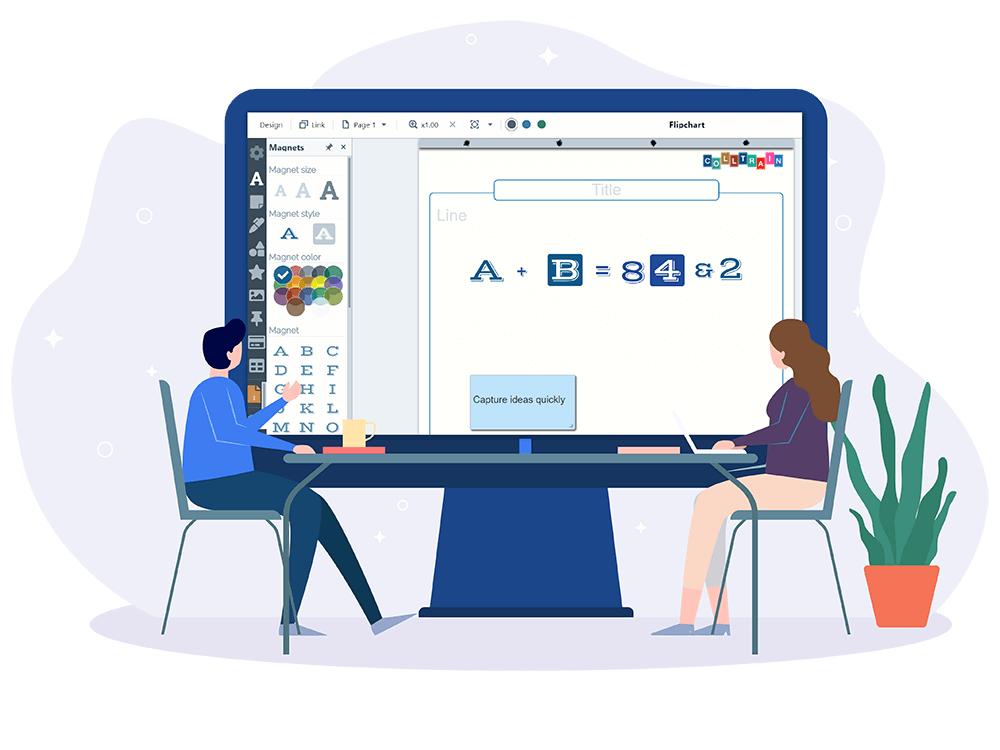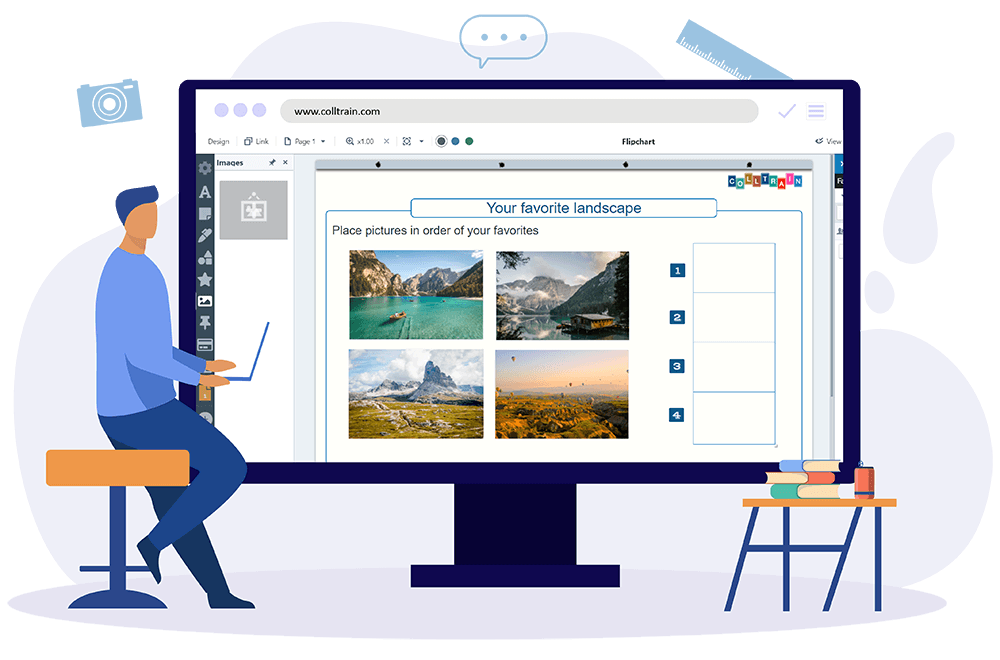 Images
Elevate your activity's engagement!
That old saying of "a picture is worth a thousand words" has never been more true than it is in online activities. Photos are far more likely to engage your participants than text alone. With Colltrain image features you can boost your board very easily – add Image from the sidebar and you can Import the desired photo just by inserting image URL, Set Opacity, Toggle Aspect Ratio or Duplicate.
By choosing the right mix of photos, you tell your participants that you care about the interaction, and this feeling can translate into a positive view of your activity. Use image tool as an opportunity to take your activity to the next level.
Tables
Stay organized!
With a Colltrain Table tool you can Add or Remove rows and columns, Create Border, give it a Color or Duplicate it, merge rows depending on data it will be used in the activity.
Tables are a fundamental ingredient in designing TOP X, Crosswords and Mix and Match activities.
A table object can be used as a grid base for activities, combined with other objects as it accepts Notes, Magnets, Icons or Images, and it implements some specific behaviors for the contained objects.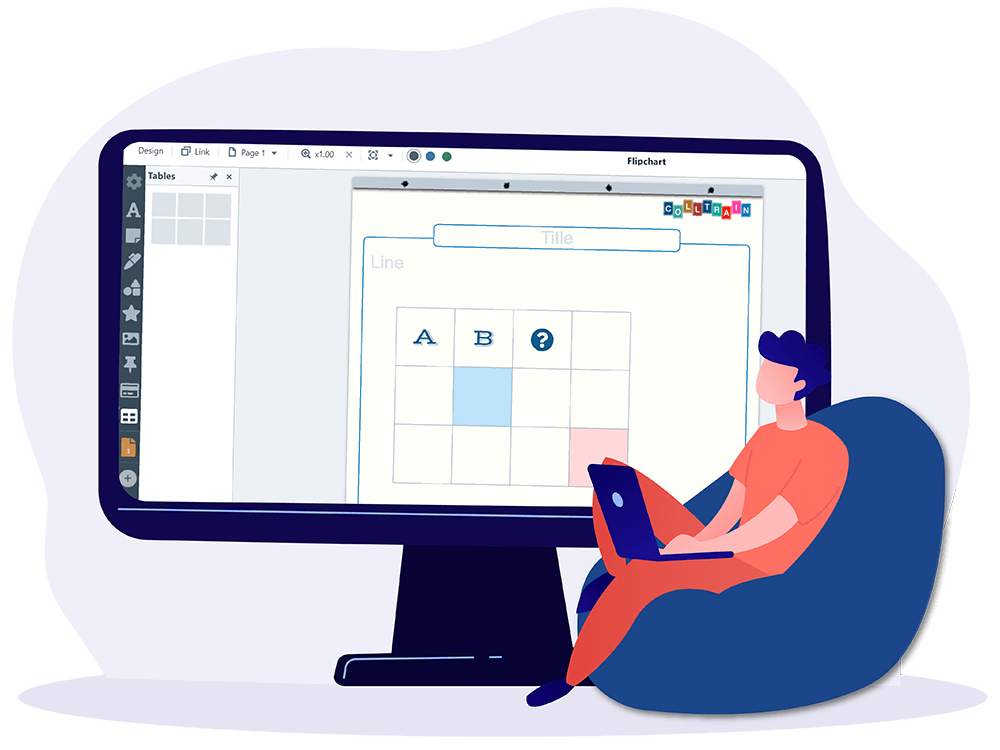 Icons
Provide visual impact!
Icons are a perfect way to represent ideas visually because they're minimalistic while still providing the perfect visual balance to offset your content. They are an important part of the designer's toolkit which can add an authentic identity to your activity and reinforce your goal.
You can use Icons in 3 different sizes and 17 colors, with just 3 clicks and drag and drop the desired shape, whether they're charts, shapes, signs, everything you need. Illustrate the main concept of your text, to let participants know what your activity is all about.
Flipchart Object Sets
Fill the gaps in participant's experience
While we were striving to replicate all classic scenarios, we have discovered that players may need pre-packaged set of objects like: a set of playing cards, a set of cue cards or a set of theme images. As a designer you are able to prepare in advance sets of objects that later can be used during game-like activities.
While the sets can be private or public, any of them can be used as a self-served deck of cards or the objects can be distributed or withdrawn following several algorithms.
MyBoard is a nice complement to sets as you can use this feature to model "my hand". Almost any flipchart object can be part of a set so you can use notes, pictures, icons, magnets and even tables to build your own.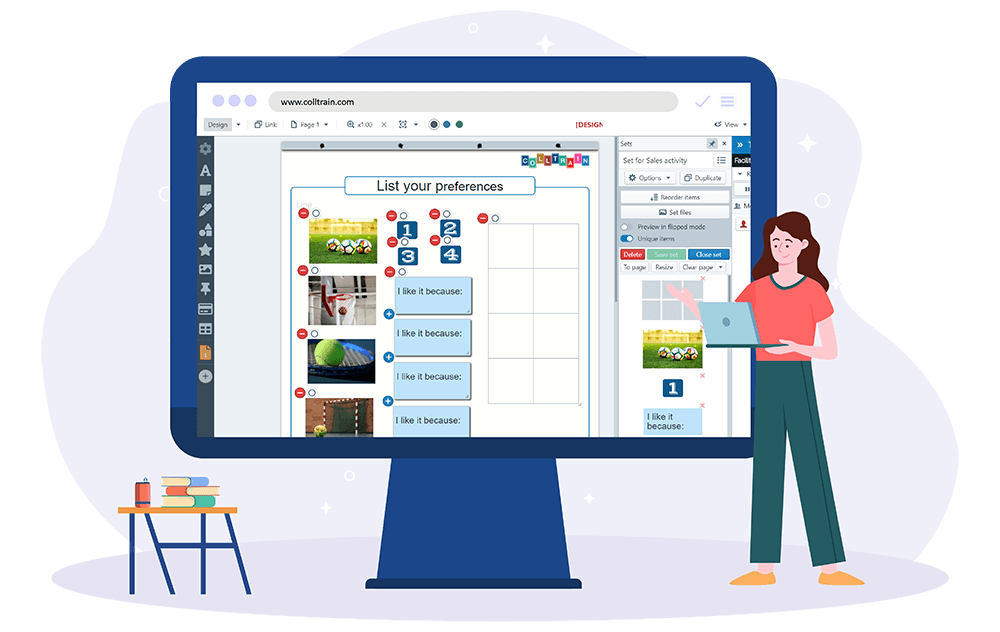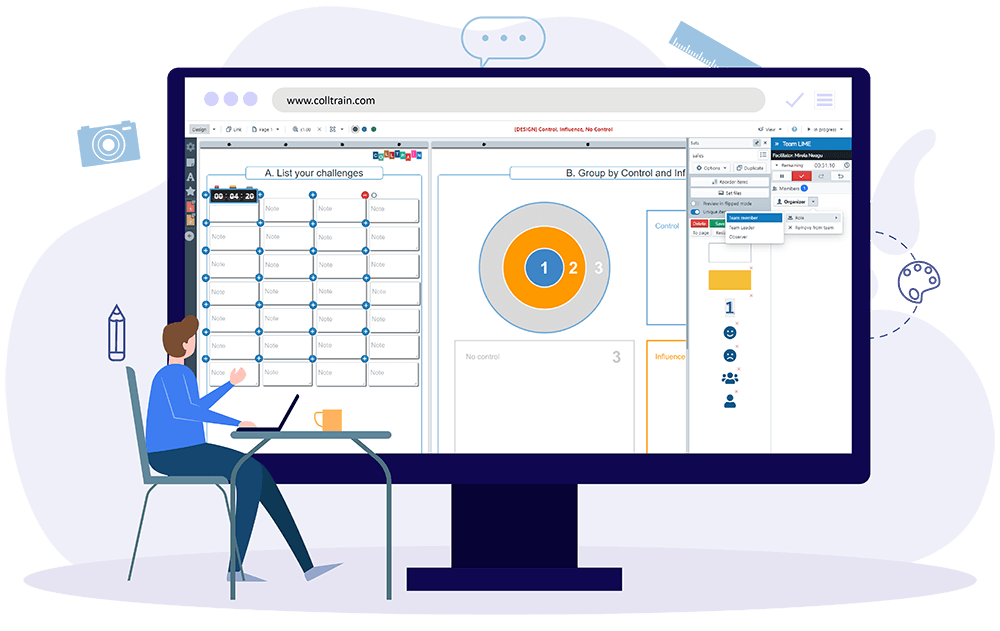 Beyond Brainstorming
More than meets the eye
While other virtual boards are aimed at running brainstorming like activities, with Colltrain you are able to reach a new level of preparation and interaction. We bring into the mix additional capabilities that help you to advance your show.
Take into account some of them:
Change background and model the place with a visual metaphor
Control behaviors for objects and start the activity with an existing set
Run the activity from a predefined start-up configuration
Start, Stop, Reinitialize the activity and allocate specific roles to participants
Dual mode view so you can run various "contrast" activities
Add MyBoard for scenarios where players need to handle their private items or running silent brainstorming
Design capabilities for all the above items so you can build/ implement your specific scenarios with a high degree of customization
You are in good company!
"The team had an absolute ball! Thank you so much for bringing the fun and energy to our team. A very well organized and run activity. It was the highest rated activity of the day. Thank you!"
Nowak Kowalczyk – Participant in team building training