Colltrain 2.5 – London Edition
New Release
London – March 14th, 2022
Colltrain 2.5 (London Edition) comes with new features to support visual collaboration during team meetings and events, empowering facilitators with key tools to support brainstorming, affinity grouping, voting, and decision making.
The changes regard the flip chart activity type.
While these new features bring more fun to the collaboration among team members, some of them make designing new activities easier with the features related to object selection and manipulation.
In short, you can now enjoy:
Facilitating features: voting, object labelling, content protection
Object manipulation and design: selection mode, alignment, distribution, movement (with mouse and arrow keys)
User Experience: a few visual changes to declutter even more the virtual workspace including new mouse pointers, new rotation algorithm for flipchart objects, different defaults.
Colltrain library: a pack of 31 activities has been translated into German and was released soon as 'German Starter Pack'
Labeling objects
With this dedicated feature of Colltrain 2.5 you can now run different activities that can help participants categorise and prioritise based on certain criteria, thus helping them to deepen their knowledge by structuring a series of concepts.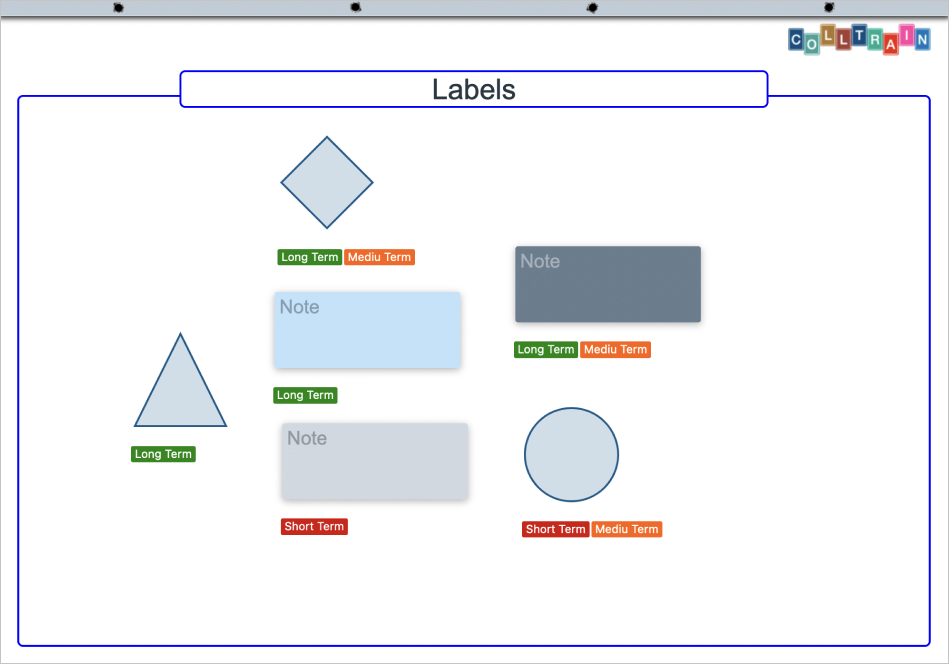 You can create labels on the spot, by accessing Labels from the Facilitate menu.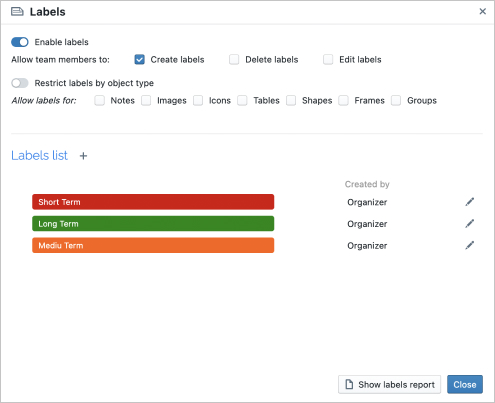 Just like in the voting sessions' case, you can run and save a report that you can later on use to serve your purpose: send it to the participants, use it as an example, create awareness, get better insights, etc.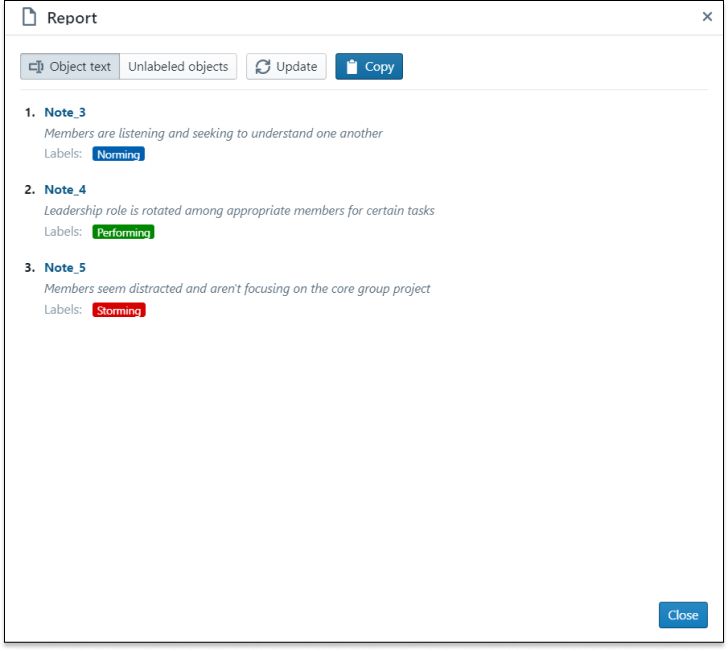 Voting
When you want to find out the participants' preference/choice quickly, easily and accurately, let's say after a brainstorming activity, you can set up a voting session following a few steps in the Facilitation/Voting section. A few clicks here for duration, number of allocated votes/participant, maximum number of votes allowed per object, and you're all set!
Easy as 3, 2, 1, vote!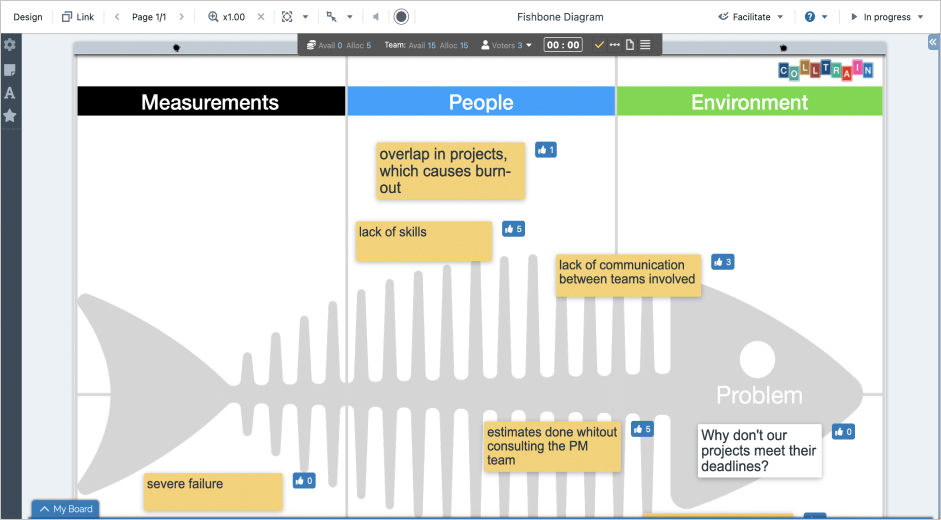 For the most exigent facilitators, we are able to tweak the voting sessions by deciding on what type of object you will allow participants to vote, deciding what totals to display and when. Nevertheless, with larger activities, you are able to launch multiple voting sessions and come back to the results until the activity is completed.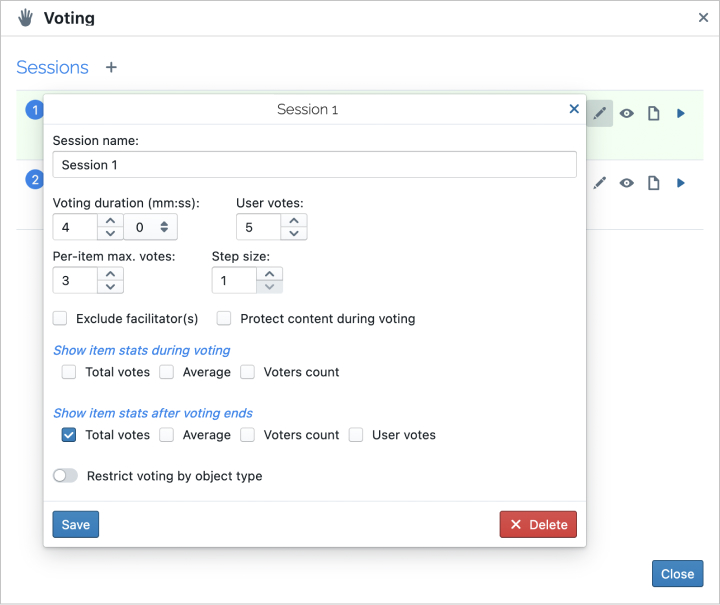 Of course, you can then generate a report for further reference 😉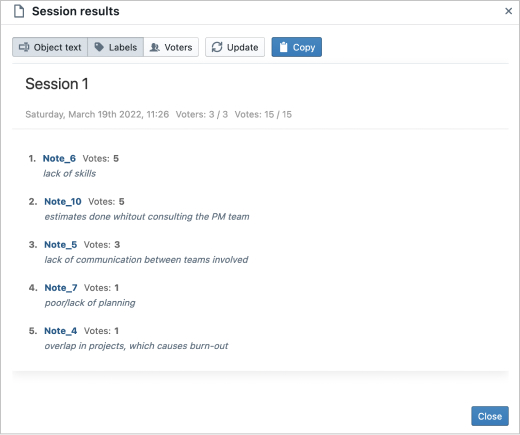 Content protection
After the participants completed a creative session, the worst thing that may happen is that somebody, by mistake, deletes or alters the content and changes the intended meaning.
This is where content protection can be proven a lifesaver, as you are able to temporarily protect the content until the team presents the results.
Content protection can be used to offer a more streamlined view of the content, as you are able to selectively inhibit some of the object layout. For example, hiding the object toolbar or inhibiting object rotation.
Selection of multiple objects
By activating the Selection mode from the toolbar menu (or by pressing CTRl key), you can now select in one stroke multiple objects displayed on the flipchart, by using the mouse.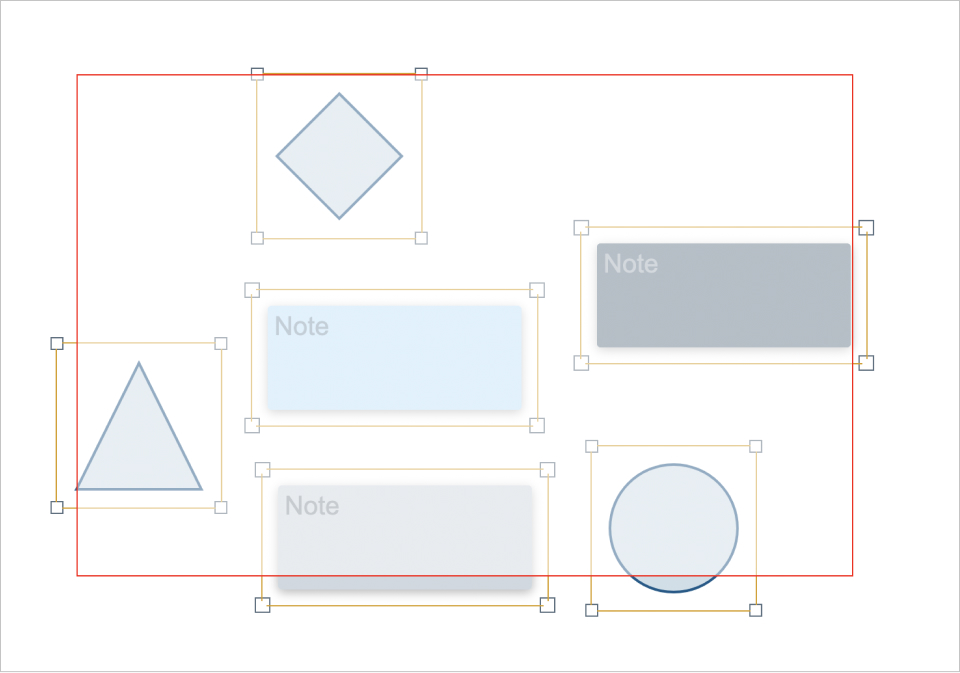 With the selection, you can perform new actions:
Align and distribute (see the next section)
Delete (Windows/Linux Delete Key and 'Fn+Delete' on Mac)
Move with mouse or arrow keys
Duplicate, by using drag, followed by 'ALT + Release' on Windows/Linux or "Option + Release' on Mac
Label selection
Assigning one or more labels to all objects at once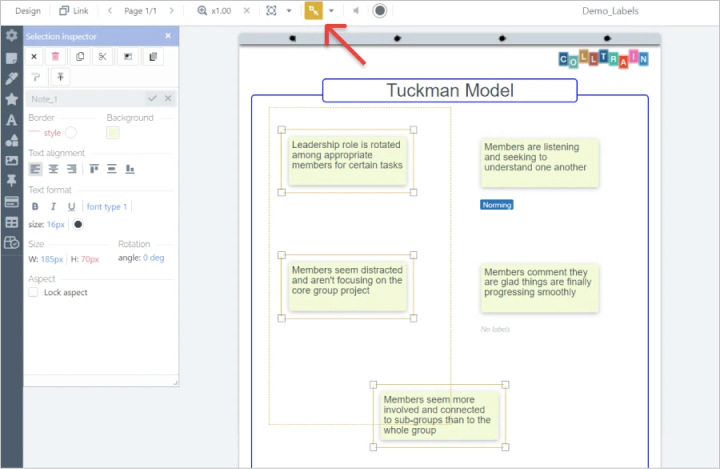 All these shortcuts make object manipulation a breeze and you can see how pleasant working with multiple objects is!
Aligning and distributing objects on flipchart
During creative sessions, people move around objects in no particular order because the focus is on generating as many ideas as you can and the order is not that important.But, when you conclude the divergent part, moving more into a structured, ordered approach, putting objects in the right place becomes important.
Just two clicks and you can align the objects following your favourite pattern. Those can now be selected, aligned: to the right/left side of the flipchart or centred, distributed at a preferred distance from each other.
This can become handy, when you're designing an activity with many objects, like cards, that need to be aligned perfectly.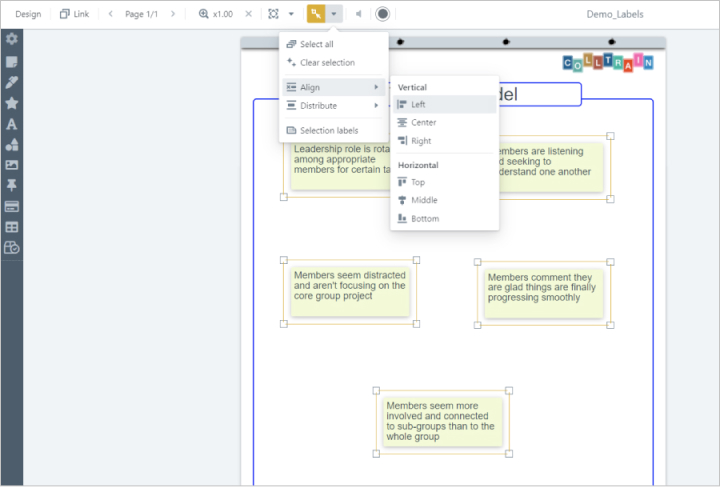 German Starter Pack
We made available the first 31 activities from Colltrain Library available in German. These are available from Library. In case they are not visible, select German from the language list.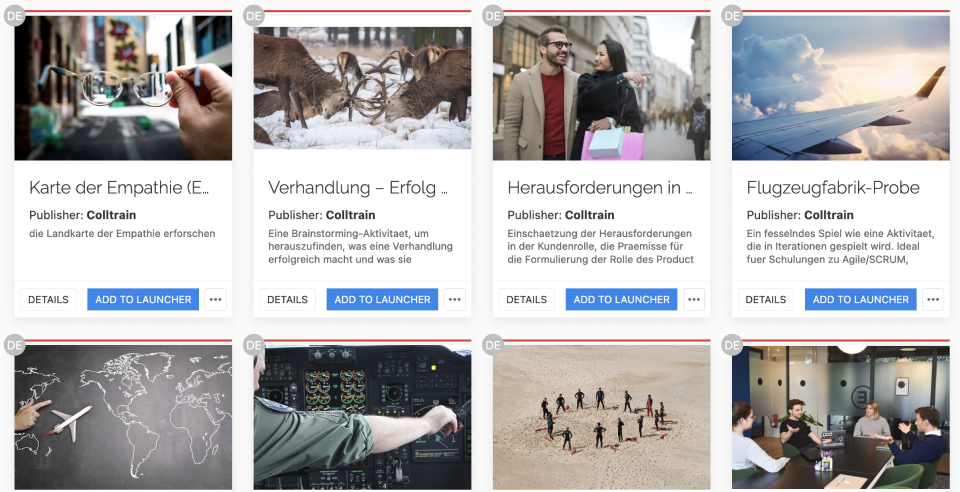 ///
As always, this version is dedicated to the trainers and facilitators of the world!
With love,
from Colltrain Creators