What about the Activity Library?
Running your remote training delivery could be slow if you start from scratch. We encourage you to begin training delivery based on existing activities from the library. If you are interested in creating your own, use the existing ones as templates so you can kick-start new designs. At this moment, Colltrain Organization is the only publisher to activity library and the activities are available to all users.
An ever growing library of activities
Flash Start
You can launch right away with a number of ten standard activities covering several categories:
Flipchart, Letters, Cards
Ice Breakers, Energizers
Personality Training, Soft Skills
Agile, SCRUM, Project Management
Sales, Recap
Business Process Management
Time Management
Mix and Match
Etc.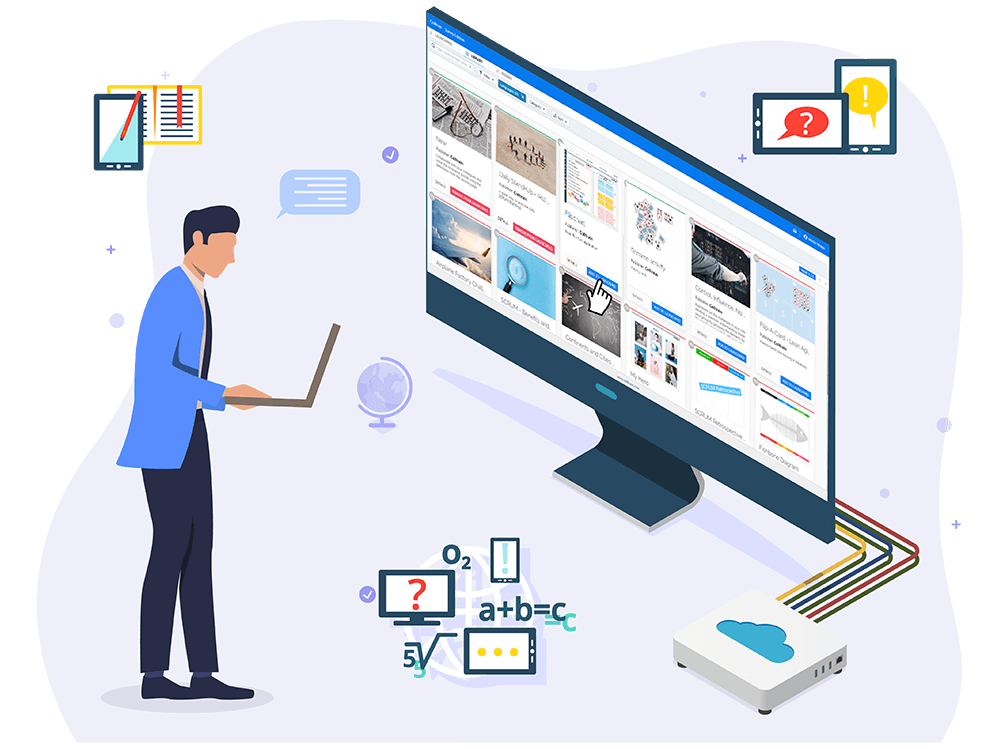 Examples of Activity Library activities
Run, Enjoy, Reuse
With Colltrain Flipchart you can replicate all your in class activities. Use notes, magnets, tables, shapes icons, images and others, to turn your activity into an interactive training.
Arrange letters, create words, learn new words and have some fun with your team. It is time to win the game with the highest possible score at Colltrain.
Sort the Cards game is one of our most popular, used for communication and negotiation skills. The difficulties appear when you have to click, click and click some more, under time pressure.
Collaborate with your colleagues and solve the crossword puzzle using the definitions from the second page. With Colltrain it's easier than ever. Give it a try!
A template for a "Mix and Match" activity using world cities and continents, in which participants must flip the cards with the default cities and match them to the corresponding continents.
An engaging game like activity played in iterations. Great for Agile/SCRUM, Business Process Management, Project Management, Team Collaboration and Time Management training.
Brainstorm on the challenges in your role, develop a common understanding inside your group by grouping the elements by the specific area (control, influence, no control).
Self-introduction activity based on the metaphor of a "Hero" character facilitated by the seminar leader. Use your avatar to show your choice, then explain why.
A great way to practice daily SCRUM/Stand-up. This activity has become in the last months one of our most popular.
Practice batch size moving in iterations, with a lean agile activity. It is a good exercise to add to a Friday agenda.
Practice Root and Cause Analysis. It can be used as an activity to structure a brainstorming session.
Brainstorm on SCRUM usage benefits and challenges related to implementation.
You are in good company!
"I was able to run my entire Agile training session using only the activity library activities with zero set-up effort. It was a wonderful experience as I am located in Europe and the participants were joining from Mexico. Colltrain performed well in terms of responsiveness and the feedback was fantastic. Right now, I am looking into developing my own activities for the next projects, drawing inspiration from the existing templates."
Ciprian C. – Agile trainer and Coach